Virus Blog
7/11/20
He's Gone. And then there were two...plus dog. Kevin has moved only about 45 minutes away. It feels like a big deal. The quarantine HQ just got different. Once you leave quarantine you don't come back. At least not without risk. Sad.
A Picture is Worth 1000 Words.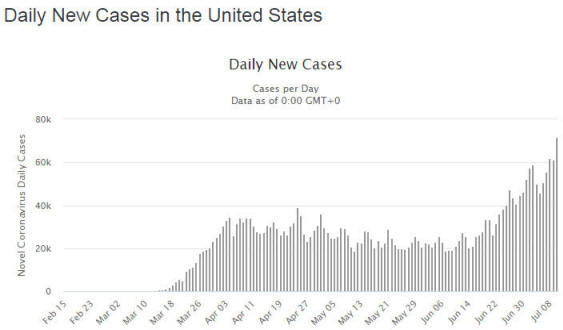 7/12/20
Going to the Gym. The health club's marketing has been on fire lately. Nothing but good news is in the emails that they've sent. They offered members, who are currently not paying monthly dues, a chance to tour the club and see all the changes that have been made in order for us to return to the health club. We arrived to a masked person at the doorway who took our temperature before we were greated.
We signed but when we asked why they were making us re-use an ipad to sign our names they assured us that they disinfected the ipad after every use. Didn't see that happen after I used it.
We planned to meet another couple so we knew everyone on our tour. The tour guide arrived and told us that even though we were 11 minutes past the appointed time, that we needed to wait a few more minutes for another couple.
Question: What happened to no more than 4 people on a tour?

Answer: I don't know this is what they put on my schedule.
We pressed. We started the tour without any additional people. She explained that all towels would be distributed by the front staff to guarantee cleanliness, that the hot tubs and suanas were all closed and that all activities now required a reservation that can be made from their handy new app. The reservation system ensures the appropriate capacity at all times. She explained that they had spaced out equipment and commandeered a few tennis courts for class activities that would have otherwise been inside.
We headed up stairs. As we entered the top floor she told us that masks must be worn at all times inside. As she said that I caught a glimpse of the squash court.
Question: I thought you said everyone wears a mask?

Answer: Except on the squash courts which are enclosed.
We headed further in and saw that much of the space has been repurposed and spread out. There was about 25% of the equipment that previously was there. And as we turned the corner an entire wall was taken up by just four people on the elliptical machines. None had a mask.
Question: Why aren't they wearing a mask.

Answer: Well there is still some confusion, don't worry I'll tell the floor manager.
The tour continued. The exercisers never wore a mask as long as we were on the floor.
We carried on...
People were swimming but you essentially reserved a specific lane instead of sharing a lane with strangers. Doors were locked in order to discourage touch door knobs. The restaurants were closed but soon available for take out.
I don't think any of us was even remotely convinced it was time to return to a gym. Ours is a high-end club and we thought some restaurants had things better figured out that this health club. The idea of working out in a mask and having no consistent enforcement is premature. I one point we saw a 70ish woman, wearing a bathing suit walking from the locker room to the pool. She was indoors and maskless as we passed her in the hall. Tour over. I bought a $15 yoga mat. Set it up in the garage and will have to commit to this new reality.
In other news:
Masks. After claiming that people were wearing masks for political reasons, the President wore a mask for the first time yesterday but only because he was visiting a hospital. Amazingly that was an accomplishment.

Pardons. The President commuted a sentence of a person convicted of lying and covering up fraud directly related to the president's election campaign. Yes, apparently he can do that. And the need for change is equally apparent.
© Greg Harris, 2020
All Rights Reserved