Scott wins National Innovation Prize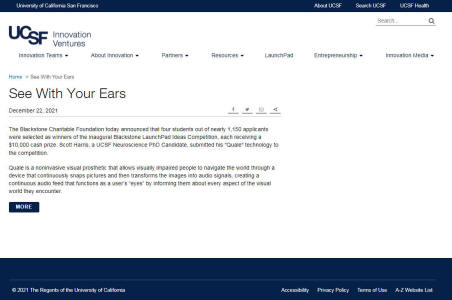 ---
The Blackstone Charitable Foundation today announced that four students out of nearly 1,150 applicants were selected as winners of the inaugural Blackstone LaunchPad Ideas Competition, each receiving a $10,000 cash prize.
The Ideas Competition is a virtual business plan competition powered by our newest partner, StartupTree, and was designed for students with no prior entrepreneurship experience. The competition was created so that any student — no matter their major or career plans — could practice the important skills of distilling and presenting a latent idea. All undergraduate and graduate students with an idea or a prototype were invited to apply.
"We were so impressed by the breadth and depth of ideas generated by students across the LaunchPad network," said Amy Stursberg, Executive Director of the Blackstone Charitable Foundation. "It's exciting to see so many students think creatively and present succinctly. The Ideas Competition was designed for all students as a value add to any of their careers, regardless of their goals for the future."
The winners were selected from a group of finalists who won their local campus competition rounds. Each school in the network was invited to participate and select winners in four different business tracks, including Social & Climate Impact, Health & Life Sciences, Consumer Products & Services, and General. All campus round winners received $1,000 and were invited to compete in the recent network-wide round.
Students from 34 schools in the network participated.
Congratulations to our outstanding winners:
Health and Life Science Track
Scott Harris, Quale
University of California, San Francisco
Quale is a noninvasive visual prosthetic that allows visually impaired people to navigate the world through a device that continuously snaps pictures and then transforms the images into audio signals, creating a continuous audio feed that functions as a user's "eyes" by informing them about every aspect of the visual world they encounter.
December 20, 2021
© Greg Harris, 2021
All Rights Reserved