San Diego Bowl Game
The Northwestern Wildcats came ridiculously close to going to the Rose Bowl but had to settle for a come from behind victory of the University of Utah. We think we visited San Diego on the only rainy day they've ever had!
Pre Game Parade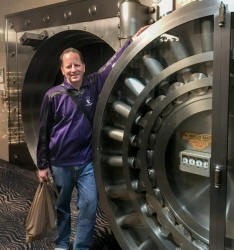 Our hotel used to be a bank.
We became wild scooter people and we scooted through the Gas Lamp District.
Northwestern Wins!
December 31, 2018
© Greg Harris, 2019
All Rights Reserved