Scott's Birthday Weekend
Scott turned 14 this week. The celebration began with a father son trip to Lake Tahoe (Eve and Kevin had other plans). We had a perfect weather day on Saturday and a perfect ski day when it dumped snow on Sunday. We had a blast skiing in fresh powder on virtually every run. Scott's biggest thrill, no doubt, was the fact that snow covered the parking lot and we could ski to our car skipping the part where we had to carry our skis and walk in our ski boots. The trip back to the cabin, however, was a bit dicey with a spin out in front of us and getting stuck on the Donner Summit for 45 minutes when they cloesed Hwy 80.
Scott's actual birthday included a nice dinner and presents...the favorite probably being the electric guitar.
Below Scottie is reunited with his dog after returning from the snow.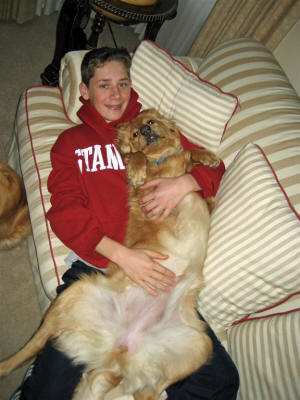 January 19, 2010
© Greg Harris, 2010
All Rights Reserved